Last Saturday at "La Camilla" 4 spectacular jugglers welcomed the 100-odd friends gathered to celebrate our 8th birthday…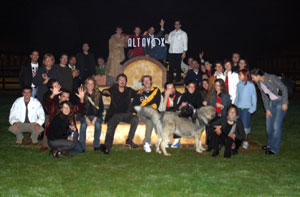 During the party other performers cut loose in the following order:
Daniela Mezzina and Loredana Ruggeri from the "Flamenco del Sur" dance company, Maurizio Sgaramella, Claudio Devecchi, Silvio Melloni, the Ruffinengo, the Roggero, Luca Jurman, Alessandra Turri, Paolo Bruno, Paolo Gambino, Carlo Cannarozzo, Claudio Devecchi ((in other words almost the entire DiscoInferno) and Barbara Belloni.
We would like to give special thanks to all these artists for the spontaneity and talent they shared with us on Saturday evening.
The party ended with a group photo of the surviving late-night owls in the courtyard of "la Camilla".
Thanks to all those who took part and see you next year.